The Alexander Samuelson Trail
The Coke Bottle Story
Who was the man that put his name on the patent of maybe the most famous paging in the world and how was that possible coming from one of the poorest countries at the time?
At a time when Sweden was one of the worlds most impoverished countries, Alexander Samuelssons life starts on a mill but after years of hardship his family was forced to move to Gothenburg were he grew up around the pubs and brothels. His father found work at a glass mill, where Alexander himself, was forced to become a glass mill worker as a child. The long and arduous path to become a glass blower was hardly child's play, and a new country in the west, offering new opportunities, beckons.
They set their course for a small town in Illinois and began to work repairing bicycles, unawere that Alexander's career soon would gain momentum. This documentary film takes us on a journey to the 19th century, through the footsteps of one of those who decided to leave Sweden when the conditions became too dire.
We will try to relive the times when industrialism began to blossom around the world and Alexander Samuelson puts his name on the patent of one of the most famous paging int the world.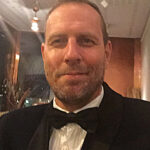 Anders Lundin was born on October 9, 1965 in Kungälv just outside Gothenburg, Sweden. Growing up in Bohus, Ale municipality. In 2013 he received the cultural prize for the film "Life on Surte" which is about the old glass mill society in Surte. A film language that combines old techniques with new is an important ingredient in his films. 2018, he made "Run for the future" a documentary about poor runners in Tanzania who come to Sweden to seek happiness. In 2015, work began on I Alexander Samuelson's footsteps, which tells the story of perhaps the world's most famous packaging, the Coca-Cola bottle. The film was released in 2019. He has a background from the theater and music scene and writes much of the film music himself for his productions and also writes film music for other filmmakers.
View the full movie here!
Wellcome to view the full English version (1×82 min). You will need a password to do so.